Poland e-Postcard
From Our Travels to the Polish Motherland
with Loretta Gasiorek & AnnMarie Gasiorek Becker
September 13 to September 26, 2013
Dzien dobry (good day) --
You are on our mailing list for our travel e-postcards, so are now subjected to tales of our latest trip - a two week tour of Poland.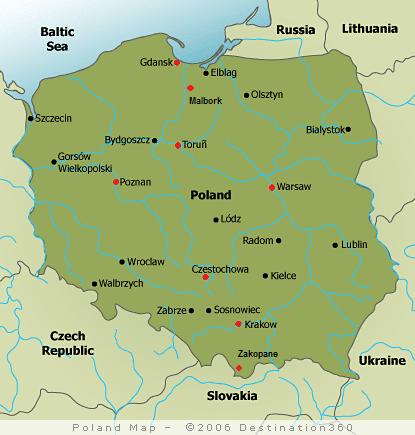 At the request of Di's Aunt Loretta, Tim planned this group tour for four. Loretta is in her mid-70s with amazing endurance and of 100% Polish background. AnnMarie is Loretta's daughter, Di's godchild, a recently retired police officer, newly married, and 100% Polish. Di is 50% Polish. Tim just likes Polish food.
For all of us, it was our first trip to Poland. For Loretta and AnnMarie, it was their first trip to Europe. Although this small group trip was more expensive than the usual bus tours, we decided it was worth it to be able to arrange our own schedule. We stayed in the less expensive tourist hotels and had private tour guides and drivers.
None of us speak the Polish language well, but three of us have been hearing some Polish all our lives from parents, grandparents and Loretta's husband. Polish is a language of minimum vowels, numerous accent marks, "w" pronounced as "v", and three versions of the letter Z. Loretta could pronounce what she saw. She said she learned as a child to say: dzien dobry, (jyen' do bri: good day), dziekuje (jyen koo ye: thank you), and Gene Autry (jyeen awe dree: Western movie star).
The rest of us had to struggle with words like Gdansk (a city), King Zygmunt III Wasa (aka Ziggy), and Zubrowka (a flavored vodka). For ease of reading (both by you and your browsers), we have left out the accent marks and non-English letters. We include pronunciation when necessary or interesting.
Off we go…
Armed with plenty of Polish zlotys (pronounced "zwot-e": Polish currency, about 3 zl to U.S. $1), we flew to Amsterdam and on to Warsaw, Poland. Those international plane rides can be long, especially when near a crying baby. We arrived just before noon and were whisked to our large hotel in the center of the city. After three hours rest, we met our first guide, Jolanta and headed out for a whirlwind tour of the city.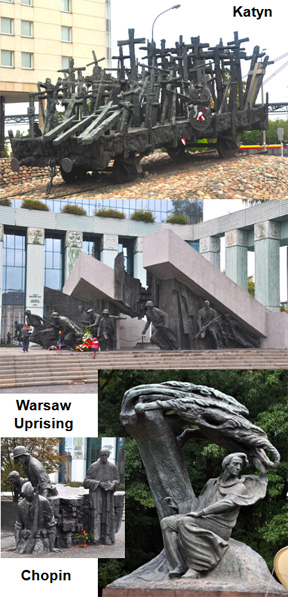 In existence since the 14th century, Warsaw survived invasions by the Swedish, the arrival of Napoleon, and Russian control, but 85% of it was destroyed by the Germans during World War II. Based on old drawings and photographs, many of these buildings (some as old as the 15th century) were painstakingly rebuilt, starting in 1949. The restoration was so exact that the Old Town was declared a UNESCO World Heritage Area, even though the buildings are new.
Warsaw is a city of many statues and monuments. There were three that stood out. One was the Warsaw Uprising monument, commemorating a failed attempt after 63 days by Polish resistance fighters against the Nazis (while Soviet troops looked on). It portrays bedraggled Poles dressed in fatigues they took from dead Nazis and another person rising from a manhole. During the uprising, many citizens hid for days in the network of sewers, only to be shot as they emerged. Throughout the city you would see a symbol for the Polish resistance, the letter P joined below to the hooks of an anchor.
The Katyn Monument honors two groups: the almost 22,000 Polish soldiers and intellectuals (killed in 1943) found in mass graves near Katyn, Russia and the over 90 Polish politicians and dignitaries (including the president) who died in a 2010 plane crash while travelling to see the mass graves. The Soviets only admitted to the WWII murders in the 1990s. Some folks suspect they were behind the plane crash as well. The statue of an old wagon filled with crosses is very poignant. Several U.S. cities, Detroit included, have Katyn monuments.
On a more cheerful note (pun intended), the statue of Frederic Chopin (Warsaw's favorite son) was a large, dynamic windblown image of the composer. The statue is in a huge park dedicated to Chopin. Around the park are stone benches, each playing a different Chopin tune when a button on them is pressed.
We walked around the large Old Town square with its restored buildings, visited our first (but certainly not last) cathedral, and the grand summer castle of Polish kings. Statues of magnificently mustached kings and generals were everywhere, as were reminders of the devastation of war. In Warsaw, almost 400,000 Jews were gathered into a walled ghetto. Many died there and, after an unsuccessful Ghetto Uprising, the rest were sent to concentrations camps. There was, to us, an aura of sadness and remembrance in many parts of the city.
The new university library was a great surprise. It has a green roof full of flowers and plants that is over 2.5 acres in size and open to the public. It was a bright spot in a city that still showed architectural influence of the Communists who controlled Poland from 1945 to 1989.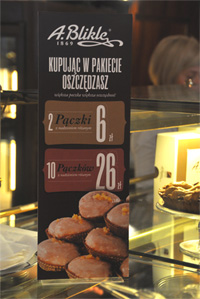 In Warsaw we had our first real Polish food. We sampled several kinds of pierogi (dumplings stuffed with cheese, potatoes, meat and/or fruit), barszcz (beet soup; aka "borscht"), zurek (a yummy soup made with sour rye flour, sausage and eggs; aka "white borscht"), honey beer, golabki (pronounced "gol-woom-ki"; meat stuffed cabbage rolls) and the infamous paczki (pr. "poonch-ky"; a jelly doughnut we eat in the U.S. just before Lent starts). We would try several versions of these foods throughout our trip. Some were better than others; the best were probably the ones that were most like our moms or busias (pr. "boosha"; grandmas) made.
The breakfasts throughout the trip were typical European. Each hotel had a buffet with cereals, bread & rolls, sweet cakes, lunch meats, cheeses, plain and marinated vegetables, fruits, eggs, and breakfast meats (kielbasa and, often, hot dogs). You could linger long enough to have a typical American breakfast, then make a sandwich, too.
We also learned that toalety (toilets) are not always free or convenient. Most charged two zlotys (about 60 cents); that is, when they were working. Not even restaurants could be depended upon, so we always made sure we had exact toalety change as we roamed around. I could almost hear my mom saying "Go now, we don't know when we will find another one!"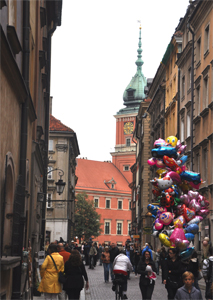 The Polish have a wry sense of humor. Here are a few examples:
In Warsaw there is Nowy Swiat (New World Street). When you face it, your back is to the old Communist Party government building.
On Piwo (beer) street in Old Town, there originally were bars all along the street and a church at the end. This led to the saying: "If you can't have beer, holy wine will do".
A mermaid is the symbol of Warsaw. The legend is that mermaids were originally in the Vistula River which runs through the city. When the river got too polluted, they decided to move. One stayed in the old town square (as a statue), some went to Chicago (largest Polish population outside of Poland), and one stopped off in Holland to rest (Amsterdam's Little Mermaid statue).
As the warrior King Jan III Sobieski said to his constantly argumentative wife. "You battle with dishes, I'll battle with guns." She, by the way, is said to have had over 1,000 hamsters as pets!
They call their squirrels Basha-basha, which translates as "little Barbara".
It is still legal to bring your cows to graze in some downtown areas, but you have to cross several lanes of traffic to do so.
We took the train north to the city of Gdansk (pronounced "dansk", aka Danzig) which lies on the Baltic Sea. Polish trains are clean, on time, and a joy to use, especially first class. You have a private compartment with six comfortable seats and great views. When we got into the station at 9 p.m. we didn't see our driver so we had to take a taxi. Thankfully, some speak English!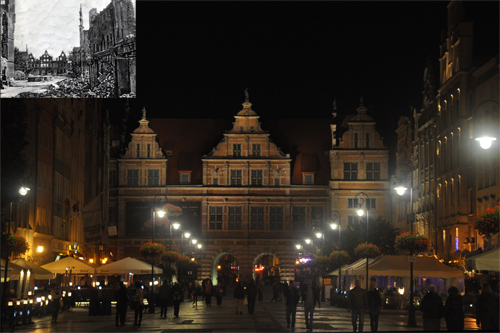 Our local tour with our guide Ewalina (Evalina) started on the Baltic coast at Westerplatte. Here is where the first shots of WWII were fired in 1939, when the Germans invaded the port. Ruins of original fortifications still exist as well as monuments to the woefully outnumbered Polish fighters who held the Germans back for seven days. Close by is the shipyard home of the Solidarity movement. This trade union started a nine year drive to break free of communism, finally successful in 1989.
Like Warsaw, old town Gdansk was rebuilt after WWII. It has a series of city gates (from the old medieval city walls). AnnMarie had a goal of trading a Royal Oak police patch with local Polish police. This is something police do worldwide. With the help of Ewalina, she was successful in Gdansk.
A wonderful surprise was a visit to the nearby Oliwa Cathedral for a short recital on its unusual organ built in the 18th century. As the organist played such pieces as Schubert's "Ave Maria" and Mussorgsky's "Night on Bald Mountain," moveable angel sculptures waved trumpets, stars and bells in time with the music. We later walked on the pier in the town of Sopot, known for its beaches, spas, resort hotels, and cold sea water since the mid 1800s.
On our way to west central Poland, we stopped to see the largest castle area in the world (52 acres) and largest brick building in Europe, Malbork Castle. It was built in the 13th century by the Order of the Teutonic Knights, Germanic monk/knights who helped pilgrims during the Crusades. They later ruled the area (conveniently forgetting the monks' vow of poverty), expanding the castle to hold over 3,000 knights and their servants. The castle is restored and contains a whopping 35 million bricks. It has two huge ballrooms (using flying buttresses for support) and fantastic carvings. The best was a gargoyle carved with his legs crossed and a pained expression. It was, you guessed it, the way to the medieval latrine tower! You walked a long passageway to the tower which contained little stalls with seats. Cabbage leaves were used for paper and it was a long drop to the pit below.

We ate at a castle restaurant run by a Polish chef who spoke English with a New Jersey accent. He is a part of the slow food movement (non-rushed eating) and we dined on goose salad, local cheeses, a mile high chicken sandwich, and drank a Polish specialty of red currant juice.
The roads in Poland are much like ours with freeways and tollways. The exception was a several kilometer stretch of freeway that was made of cobblestone. We found out that this very bumpy ride was part of the road between old east and west Prussia. The local leaders couldn't decide what to do with it, so they left it as is!
The next town, Chelmno, was a quick stop to look at the St. Valentine's relic (making it the "City of Lovers") and an unusual town hall. It was raining that day and, in general, overcast throughout much of the trip. That didn't slow us down, but we would have preferred what the Polish call "Golden Polish Autumn" (our Indian Summer).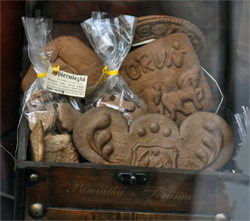 We had read in the guidebooks that, after the dreariness of northern Poland, we would find Torun refreshing … and we did. The town suffered little destruction during the war, so the buildings were original. Our quaint hotel was within the old town walls and came complete with a surly staff. Like all European buildings, the main floor is numbered zero with the next floor up (our second floor) called the first floor. Quaintness only goes so far when you are on floor two with no elevator!
We were steps from the large pedestrian town square and surrounding shopping area. With Arthur (a teacher of English) as our guide, we did some very interesting things.
Like Malbork, Torun was run by the Teutonic Knights for a while. The townspeople hated the knights (although there were only 12 knights with about 40 servants) so they destroyed the castle with help of a spy, the cook. The cook got the knights drunk one night and signaled their condition by waving his spoon from the top of a tower. The locals attacked the castle with explosives. When the tower exploded, the cook (supposedly) went flying ˝ mile and landed safely. The only ruin left of the castle is a latrine tower similar to that of Malbork. It is called "the Gdansk" (there's a sports rivalry with that city).
The town hall was beautiful, with 365 windows. In olden days, they would build another window to use during leap years and then remove it at year's end. Tim, AnnMarie, and Loretta climbed the 350+ winding stairs to the top of St. John's Cathedral tower (and down again). Loretta was amazing!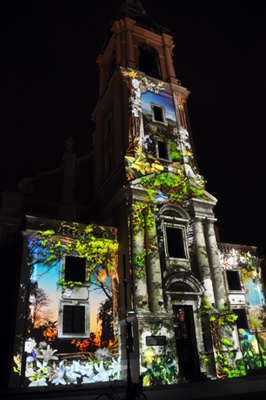 After a stop for piernika (Torun gingerbread, famous throughout Poland), we toured the Kopernik house, childhood home of Nicholas Copernicus. Many cities claim Copernicus as their own. That is because he attended universities all over Europe as he trained to be a physician, lawyer, translator (he spoke five languages), mathematician, scientist, diplomat and economist. He, however, never finished the work for any diplomas (sounds like some students we have known). A body in a grave was identified as his when its DNA was matched with a hair found in one of his books (now in Sweden) and DNA from his sister's descendants. He is most famous for his sun-centered model of the solar system. We ended the tour with a planetarium show (with English translation).
When you travel, it is sometimes those unplanned events that make a city memorable. While we were in Torun, there was a city-wide nighttime illuminations show. Artists from throughout Europe created huge music & light shows that were displayed on the sides of the town hall and other local buildings. These were awesome. They used the architecture of the building itself within the display. For example, one used computer generation to make it look like the building was being overgrown by plants; another had the building dissolve brick by brick and then rebuilt. Check out the "Skyway Torun 2013" videos on You Tube to see why we were so impressed.
Remember the Pied Piper of Hamlin? Seems that Torun has its equal. The legend states that the town was plagued by frogs. The mayor offered a cash reward and his daughter's hand in marriage to anyone who could get rid of the frogs. A young shepherd offered to help but first wanted to see the mayor's daughter. Upon approval, he then led the frogs out of town (to a nearby marsh), got the cash, married the daughter and had 14 kids with her. There is a statue of him (and the frogs) in the town square.
Our next stop was Poznan, one of the oldest cities in Poland. With Tomasz as our guide we had nut croissants (town specialty) and visited the cathedral, complete with ancient crypt. This church claims to be the birthplace of Polish Christianity as the first Polish king was baptized here. The old town (like Torun, untouched by war) had a huge town square, churches, and a royal residence.
Poznan is quite large and contains a big artificial lake within its borders. The lake has swimming, boating, hot tubs and is surrounded by bike paths, amusement rides, sleigh/ski slopes and other features to bring in the locals all year round.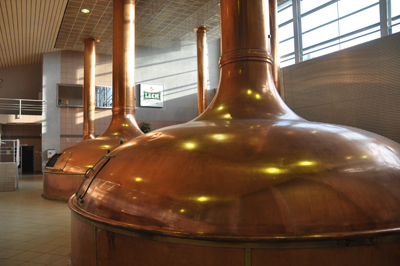 One interesting remnant of Communist occupation is the milk bar restaurant. It is called a milk bar because during the Soviet era there was little meat so the meals were dairy based. There are still a few left in Poland and it is now a place for plain, cheap food, frequented by the locals and students. You order your food and sit at long tables with whoever else is there. We shared the table with a woman we didn't know and had a variety of food (pierogi, soup, chicken cutlet) - 4 lunches and 5 beverages for a total of $13! Not fancy, but I think we were the only tourists in the crowded place.
Our visit to Poznan ended with a private tour of the Lech Brewery, one of the top three beers in Poland. Our guide there spoke with a British accent as he showed us almost the entire process from hops and water to bottling. The last stop was the tasting room. It was lucky we had a driver back to the hotel.
We were scheduled to get up early the next morning to catch our 8:30 a.m. train to Krakow. Just before 6 a.m., there was a knock on our door. Loretta told us that AnnMarie was in great pain (in her back), unable to urinate and was vomiting. I had the hotel call a doctor. An ambulance came and a doctor checked her out with limited English translations by the desk clerk. Tentative diagnosis: pancreatitis (which sounded a bit strange to us....we suspected a kidney stone as Loretta has a history of them). AnnMarie & I went in the ambulance to the local hospital with Loretta following later. Tim stayed behind awaiting news from us so he could change travel plans if needed.
The hospital was like something out of an old Soviet movie...very stark, institutionally dreary, and a bit scary. They put AnnMarie into a private room, telling us that the surgeon would come to see her. That put both AnnMarie & me into a panic as we thought surgeon might imply imminent surgery. We found an EMT and a doctor who both spoke English. The nurse (who bustled about and spoke no English) took a blood sample and handed AnnMarie a specimen cup. AnnMarie motioned that was the problem. The nurse took out a huge catheter and motioned they would have to insert it to get a sample. I guess that literally "scared the piss" out of AnnMarie, as she passed the stone almost immediately after seeing the catheter. She felt a lot better. Test results confirmed the presence of a stone and we were sent back with instructions to drink lots of water and an invoice for 130 zloty (about $43). They only asked for a passport, no actual payment, so we think they will be sending the real bill later. If it is only $43, that's one advantage of universal health care! Although we missed our original train, we were able to get on a later one and only arrived in Krakow a few hours later than planned. AnnMarie felt fine, so we are all very grateful.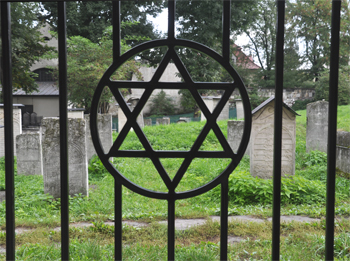 What a contrast Krakow is to Warsaw! There was a little destruction due to WWII, so most of the city remained intact. This is a highly walkable city and our comfy hotel was just a few blocks from the open air market and the town square. We had planned several days in Krakow to slow down after our whirlwind tour of northern and central Poland.
We started our stay with a tour of Kazimierz, a neighborhood of Krakow and location of the original factory of the movie "Schindler's List" and the Krakow Jewish Ghetto. Our guide Violetta told us that this area of the city was, from 1500, a haven for Jews who were able to live in relative peace until WWII. Walking the streets here we saw an ancient Jewish cemetery (making tombstone rubbings is called a "fax to God"), Helena Rubenstein's childhood home, and the "apartments" where families lived in close quarters with one bathroom for several buildings! The Kazimierz town square was called the Chicken Square officially, the Jewish Square by Christians, and the Jewish Chicken Square by Jews.
Other Krakow highlights include the Barbican (old brick town gate), Wawel castle and cathedral (with its tomb of St. Hedwig - a family-favorite saint), and an hourly trumpet solo from the tower of St. Mary's church. We also tried more paczkis (doughnuts), sampled small batch flavored vodkas at a colorful little store (AnnMarie got some yummy cherry vodka), and ate dinner at the food tents. They are set up every night and you can get a plate of pierogi (dumplings) or kielbasa (sausage) for about $2.50!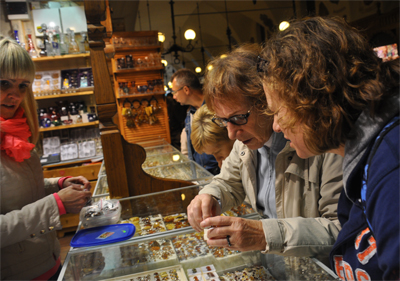 Souvenir shopping resulted in Loretta finding a set of amber earrings (amber is a Polish specialty) and an embroidered blouse to complete the native costume she got from her mother, while AnnMarie found Boleslawiec pottery bowls (traditional blue and white design). She also traded another police patch. We bought a very large Polish cookbook and some bisongrass vodka (with the actual grass in it). This vodka plus some apple juice is the original "apple pie" drink.
One day we were free of guided tours so we all went separate ways. After Loretta, AnnMarie, and Di went to the Cathedral in the town square to hear Mass in Polish, Loretta and AnnMarie met up with a few Polish relatives for a special lunch. Tim & Di went to an exhibit of Polish artists of the early 20th century.
The next day we went on a day trip to Czestochowa (see below) and finished our Krakow visit with an interesting episode. At the St. Mary's Church, there is a huge and ornate wooden altarpiece. It has three visible parts, is hinged and closed at night. Loretta wanted to see the closing ceremony, so we showed up 6 p.m. At 6:30 p.m., a very formal mass started led by a bishop, who gave a long sermon (in Polish). After mass and the procession of clergy, the lights were dimmed and… nothing happened….the altarpiece remained open. We thought we had somehow been misinformed.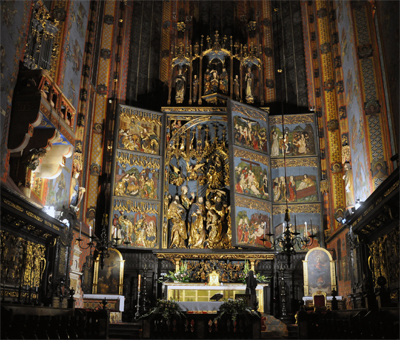 About 7:30 pm, a lone nun comes up to the altar, grabs a long stick with a hook, and closes the hinged area. The back of the piece had magnificent paintings. We had to chuckle, though, after all the male pomp and circumstance of the mass, the actual closing work was done, without ceremony, by a woman.
Here are a few Krakow notes:
The painting of the Virgin Mary in one of the Catholic churches had Martin Luther's wife as a model.
The Franciscan church has large statues of all twelve apostles standing outside. The joke is that the church is so small; there isn't even room for apostles.
There is a fire-breathing dragon statue at the base of the Wawel Castle hill and two legends about why this dragon, known to feed on small animals and human virgins, died. The version for children is that a young man fed the dragon a sheep stuffed with sulfur. It made the dragon so thirsty that he drank water until he burst. The adult version is that the dragon died of starvation as the city soon ran out of virgins!
Krakow is a beautiful city to walk about, especially at night. The market in the town square, the castle hill and other sights are lit. Horse drawn carriages are on the streets, and people are everywhere, enjoying the city.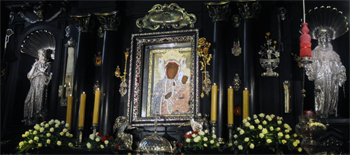 In a country that is steeped in Catholicism, the most famous religious site is the Jasna Gora monastery housing the Black Madonna of Czestochowa (pr. "chen-stow-ho-vah"). It is a 14th century painting of the Madonna and Child that is credited with saving the town from Swedish invasion in 1655. The "black" appearance is due to the darkening of varnish over the centuries. Today, over 4 million people visit the site each year. We came as a day trip from Krakow.
The icon is set up within a smallish chapel where mass is continuously said. Our guide took us along the side of the church during services and around the back of the icon's altar. Hanging on the walls were tokens of thanksgiving to the Madonna for granting favors. There were rosaries, crutches, letters, and a lot of small metal pieces shaped like body parts (eyes, arms, legs, lungs, etc.) that represented a sickness that was healed. This was a little spooky! The related museum had a variety of old books, vestments, and a cross made from the steel of the 9/11 disaster donated by New York's Polish firefighters.
The accompanying church was quite lovely. It had three smaller chapels: one for St. Paul the Hermit, for St. Joseph, and for St. Ann. This was quite a coincidence as Loretta has three children (in order): Paul, Joe, and AnnMarie!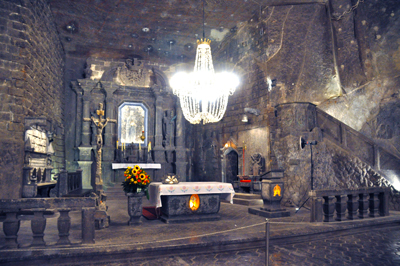 On our way south, we stopped at this famous salt mine just outside Krakow. Di's Dad had seen it years ago and said not to miss it. He was right. This is an ultra-deep mine which has been operating for over 700 years. It has several levels, the deepest at almost 1,100 feet. You take an elevator down (or several hundred stairs) then start a slow 2 hour walk downward. Fortunately, there is an elevator up!
The history of this working mine is displayed along with complex wooden support structures, but it is what the miners did after work that is most amazing. The salt here is quite pure and easy to carve. They carved statues of saints and historical figures, setting them in carved grottos and chapels. There were salt "crystal" chandeliers. Most impressive was the large room called the Chapel of St. Kinga with a ceiling almost 40 feet high. Two brothers took 30 years to carve bible scenes all over the walls; they hold weddings and concerts here. The quantity and detail of the carvings were unbelievable. The climate of the mine is known to be very healthy for people with allergies. There is even a place for ill folks to stay underground overnight.
Our last stop was the southern border of Poland, the Tatra Mountains and city of Zakopane (pr. "zok-o-paan-ye"). On our drive south, we saw many folks in the southern woods picking mushrooms and alongside the road selling their wares out of baskets. Mushrooms are a big part of Polish cuisine. Dried Polish mushrooms are available but expensive in the U.S., so Loretta was seeking some to bring home.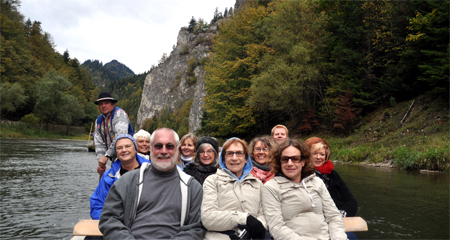 We headed to the Danjec Gorge, formed by a river that is the border between Poland and Slovakia. Di's parents had been on a rafting trip here. The raft was hollowed out wooden pontoons connected together with three rows of seats. Two men (in costume) guided the raft with long wooden poles (like the gondoliers of Venice…no white water here). We arranged a similar trip. So we thought! After changing venues and a long wait, two young men pull up in a truck planning to take us on a rubber raft complete with life vests, helmets, and paddles for all of us. Not our idea of a leisurely float. After help from our guide, we did get aboard the more traditional raft with a group of Americans (some from Michigan) and floated through a beautiful deep gorge.
Then on to Zakopane, a ski resort town nearby. Legend has it that a magic spring appeared in the center of town and some folks claimed the water had healing properties. It was later found to be a leak in the sewage system…so much for natural healing! Zakopane has a vibrant open air market where one could buy oszczypek (pr. os-che-peck) the local smoked sheep's milk cheese (yum). It is made in molds shaped like carved cylinders.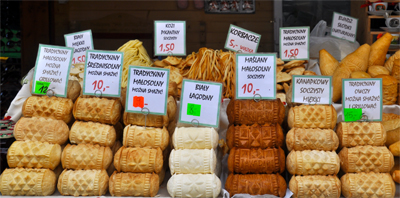 We took a cable car ride up to the top of Mt. Kasprowy Wierch (6,500 ft.). A slippery, snow-covered path took us to a marker that stood on the Polish-Slovakian border, so we could stand in two countries at the same time and view the mountains (see attachment). Here there were somewhat treacherous walks down (we skipped that) and winter ski slopes. Later that day, we took a funicular near the market that went up 4,200 feet to the top of Mt. Gubalowka where there was a wonderful view of the city in the valley below. We were lucky that the sun was out on this day, so we could see the mountain tops.
Zakopane is known for a unique type of architecture. The houses are rather narrow for their height, made of wood with many carvings on the exterior. We also visited a small church in Debne that was built in 1490 (that's before Columbus discovered America). It is still in original condition: built of wood but using no nails and painted inside using 36 colors that have faded little over time. The local priest explained that water and fire are the two main dangers. When it rains, the parishioners leave their wet coats and boots outside, mopping up any dampness after the service to prevent mold. We were fortunate to be able to see this church.
Unable to find dried mushrooms in the market we could take through customs, we shopped at the largest supermarket in town. Here they not only had the mushrooms, but dried soup mixes for our two favorite soups: zurek and barszcz, so we'll be cookin' up a Polish storm soon. And AnnMarie traded a third police patch. Her new husband, Chuck, (also a police officer) will be pleased.
Although ready to go home, none of us were looking forward to the long flight back. Standing at the gate in Amsterdam, Di heard a familiar voice say "They'll let anyone on this flight." It was Di's brother-in-law Ed (Michele's husband). He was returning to Michigan from a work trip to Bucharest. He graciously exchanged his business class ticket with Loretta's economy ticket. As we boarded the brand new Airbus, we saw her snug in a cushy seat/pod and we made our way back to the lower class area. AnnMarie said later that with the comfortable seat and the great food in business class, Loretta looked like the Queen of Poland!
That's all, folks! It was a wonderful trip to the motherland.
Dziekuje (thanks) for reading,
-- Di & Tim
---