Italy e-Postcard #2
from Our Tour of Italy
May 15 to May 26, 20100
Tim and Diane on Their Own
Hi All --
The final leg of our Italy trip began with our last day in Tuscany. The gang of eight split with Duane, Susan, Steve and Linda headed north to eventually meet at Cinque Terra while Dan, Jan, Tim, and Diane headed directly to Florence.
FLORENCE
After a thankfully uneventful train ride to Florence, the four of us went to check into our hotel. We had made reservations almost a year before so we were surprised when the clerk sent us around the corner to a "sister" hotel. Dan and Jan checked into a beautiful room with a loft, kitchen, and sitting area. Tim and Di got the ugly stepsister hotel. It was a small room (complete with microscopic bathroom) that was part of a student housing complex (and looked like it). The only decoration was a plastic paperweight containing preserved beetles. Since both couples paid the same price, there was a slight discrepancy. After complaining to the manager, Tim got us back to the original hotel with a slightly larger room and no beetles.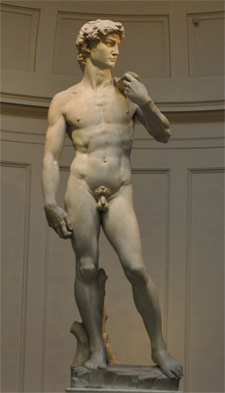 Dan and Jan were leaving very early the next morning so we had just one day to hit the Florence highlights. High on the list were the Duomo (cathedral), known for its stunning front face and Michelangelo's statute of David (pronounced dah-veed, accent on the veed) known for his stunning backside.
Since the line to enter the Duomo was short (and free), we went there first. The exterior is striped pink, green, and white marble with three huge bronze carved front doors. The front had been recently cleaned, and it was a wonder to behold. Inside, below the altars and exquisite carvings was a display of the excavations beneath the Duomo: ancient remnants of a previous church, early Roman houses, and some burial sites.
Next was a short walk to the Accademia, home of David. As one would expect, the line was very long. Tim and Di went to check out if any express line tickets were available. When we asked about tickets for that night, the clerk looked as us strangely. "The Florence museums are free tonight and open late," she said (in English). Sure enough, it was the once-a-year event, " la notte dei musei" (the night at the museums) where, in select Italian cities, the museums were open until midnight or later and FREE!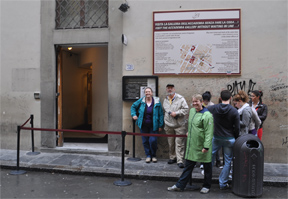 The "night" started at 7 p.m., so after Dan & Jan attended English mass at the Duomo, we all met at the Accademia entrance at 6 p.m. We were the first in line and, an hour later, were first to enter the museum. In my past visit, I had to wait and fight the crowds. Here, we essentially had David to ourselves, truly a once-in-a lifetime experience. It was an ideal photographic opportunity for Tim, but photos were not allowed. So he had to wait until the crowd came in to hide his illegal shots. There is more than just a large naked guy in this museum. To us, even more awesome were Michelangelo's Prisoner sculptures….several works where the top was the partial figure of a chained man, rising from the original block of uncarved marble. The movement and straining of the prisoners looked so real it took your breath away.
After a farewell dinner with Dan and Jan, we headed out to the Uffizi Art Museum (also free that night), waited in line for about a half hour, and then zipped through the museum until 1 a.m. I know we didn't walk through all 45 rooms of great art, but it sure felt like it. After seeing several hundred masterpieces, we were cultured out!

We revisited the Duomo the next night (much better photos) and attended evening vespers there (in Italian) complete with 12 priests singing Gregorian chant accompanied by a full pipe organ. Both of us had been to Florence before (separately) and remembered overlooking the city from the hilltop in Boboli Gardens, across the Arno River. The guidebook suggested heading for the less touristy Bardini gardens instead and so we did, finding wonderful vistas of Florence, an outdoor gallery of modern sculpture, and a way into the back of Boboli Gardens. Florence is so full of churches, galleries, and museums, as well as being so very walkable…..we want to go back.
SORRENTO AND BEYOND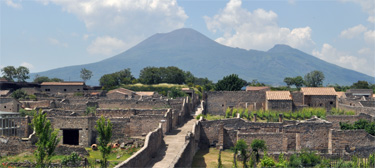 From Florence it was onto Naples by train. Instead of staying there, we spent five nights in Sorrento, further south down the Bay of Naples. Naples, Sorrento, as well as Pompeii and Herculaneum (on our list), are all connected by train, the Circumvesuvia, and centered around Mt. Vesuvius (also on list). As you head from Naples to Sorrento, you can see the ever present Mt. Vesuvius.
Our Sorrento accommodation, Mami Camila's, is a B&B and cooking school. Some folks were staying and doing a cooking internship on-site for their Cordon Bleu diploma, others (like us) just wanted one class, and some just came to sleep and eat. This was one of the best breakfasts (at a B&B) we've ever had. Advertised as just a "continental breakfast", we expected the usual stale roll and jam.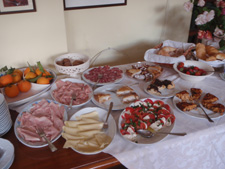 This place must mean some other continent…we were offered fresh squeezed OJ, bacon & eggs, croissants (warm), fruit, cereal, yogurt, and the leftover goodies from the yesterday's cooking class (including cannolis, apple pie, éclairs, etc.). Yum!
From Mami's it was an easy walk (1 km) into Sorrento, a city built into cliffsides down to the sea. The sidestreets were narrow, and lined with shops or walls containing doors of homes. Orange and lemon trees overhung the sidewalks, while the honeysuckle vines released their perfume as we passed by them. This is the home of lemoncello, liquor made of local lemon rinds. We had some tremendous meals here. At the seaside Da Emilia restaurant, we left an embarrassingly big bowl of mussel and clam shells (nothing left of the squid).
Quick History Fact: Mt. Vesuvius erupted in 79 A.D. burying the area (including the cities of Pompeii and Herculaneum) in ash. Excavating began in the 1740s and continues to this day.
We used Sorrento as our base station for day trips, taking the train when we could. One ride was to Pompeii, a huge (108 acres) area of excavated homes, temples, a brothel, snack bars (really), and taverns. In most cases, only partial walls and columns are still standing. But so much has been excavated, that you actually walk down streets and can see how the city was organized.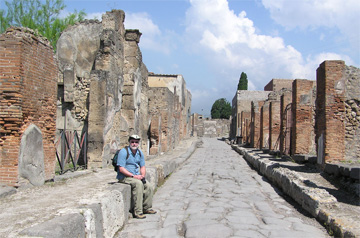 We saw some of the bodycasts of people caught by the pyroclastic flow; it was haunting. The best frescos (wall paintings) and tile work were moved to the Archeological Museum in Naples. Later that day we climbed Mt. Vesuvius….well, actually we took a bus almost to the top and then walked. It is a huge, quiet crater with one small vent of smoke rising. But the view out to the Bay of Naples made you realize what a disaster a modern eruption would bring about.
The next day we took the train to Naples to see the Pompeii mosaics and the Secret Cabinet Room (the collection of Roman erotic art). Our "good angel" must have been on alert, as both the exhibits were closed. But we did have a real "Neapolitan pizza verite" (the original pizza) which is hand-rolled crust, fresh tomatoes and just a little sauce and cheese. You fold it in half and eat it as you walk down the street – only one euro ($1.30).
So on to Herculaneum, much smaller than Pompeii (22 acres) and buried under four times as much ash. But the remains were more complete some with second floors, ceilings, and staircases. You could walk inside the houses with large inner courtyards, and see the fountains, shrines, and ovens. Most of the original inhabitants got out of the city before the eruption, but some were stranded at water's edge when there were no more escape boats left. There are still excavations going on in that area. Also, in the city, the House of Papyrus was discovered. Here is where thousands of burnt scrolls were uncovered. Modern technology has allowed scientists to unroll and partially read the scrolls, almost 2,000 years old.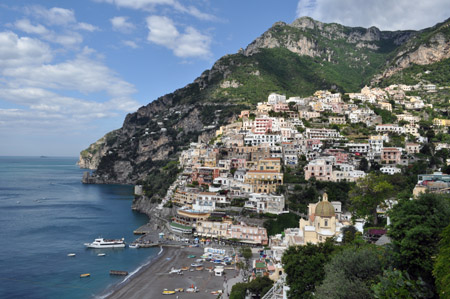 We were told not to miss the Amalfi Coast, so we made that a day trip. It started with a somewhat harrowing bus ride around the peninsula, to the seaside city of Positano, where small houses are huddled together on the cliffs. Tim was in his glory. As the bus was fairly empty and the back seat wasn't taken, he took over the whole back seat and could slide around taking photos from both sides of the bus at the same time.
The cathedral in Positano contained an unusual Byzantine statue of the Virgin Mary. Folklore is that the statue was being stolen from Byzantium by pirates who passed by this area in their ship. But they kept hearing "poso, poso (put down, put down)" so they got scared and put the statue on land. The town of Positano was built around this location. We hopped a second bus to Amalfi, another cliff town built within a huge ravine. Any movement around town required climbing uphill or upstairs (there was a severe lack of downhill here, I recall). Narrow stairs and passageways connected the staggered homes, like a maze. We took a fast ferry back to Sorrento and Tim was able to get several dozen more pictures of the coast (from a different point of view, I'll admit).
Imagine the image of Chef Boyardee (from the can label) without the mustache, that was Chef Longo, our cooking instructor. He was a large man who gave a little instruction and let his assistant do a lot of the work.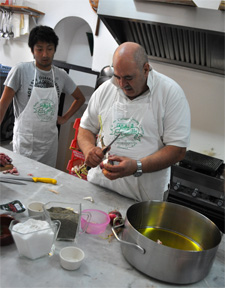 But, under his watchful eye, we did make rice balls stuffed w/mozzarella, pepperoni (peppers, olives, capers, onions), ragu w/ meat rolls, pasta, and cannolis from scratch. The cannoli is a wafer (here made with three types of liquor) that is wrapped into a tube, deep fried, coated inside with chocolate and filled with cream. They were luscious, but time consuming and messy to make. But we made so many that some were on the breakfast buffet the next morning. We did get a cookbook and aprons out of the deal, and enjoyably ate our productions (washed down by local wines).
Secrets of Italian cooking and eating:
When making pasta from scratch, the name is based on the shape. If you cut it too small or large, you just change the ending. Ex., lagna (wide noodles), lasagna (wider noodles), lasagnette (not quite as wide as lasagna), lasagnotta (longer than lasagna). In an emergency you can call it "maltagliata" (which mean "badly cut") but still sounds impressive.
That exquisite smoked mozzarella you ate was really just regular cheese mixed with Liquid Smoke. It is illegal to smoke cheese in Italy.
Fresh tasty tomatoes are the key.
If you can't translate the menu item, you probably don't want to eat it. Yes, horsemeat was available at one of the butchers, but we didn't try it.
Serve local wine in large quantities. It makes everything taste good.
THE HEEL OF THE BOOT
In Sorrento we rented a car and took the scenic route southeast, eventually to the heel of Italy's "boot", an area called Puglia. Although we have previously mentioned the state of Italy's drivers, it is time to review: go fast, beep horn frequently, ignore lane markings, park in any available space (legal or not). Tim fit right in (scary thought, huh?).
Since we don't have a small portable GPS, we used the next best thing….our new netbook balanced on Di's lap, plugged into the cigarette lighter with a GPS receiver on a cable hanging from the sun visor….not a very high tech picture. But the set up worked ok, except that Di's learning curve of the software was kind of flat.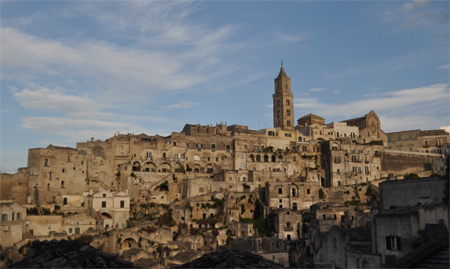 And we kept losing the satellite feed in the wilds of Italy. And the maps and the GPS didn't always agree. So some of the scenic route was not voluntary.
We went directly from Sorrento to Matera, one of the most interesting places we've ever been. It is considered one of the oldest cities in the world. Since the Stone Age, people there lived in caves (sassis) in a huge ravine. Over the centuries they carved out houses and temples/churches, connected by footpaths. There were actually people living in the sassis until the 1950's. The sassis were very primitive, lacking basic sanitation, and considered by Italy to be a national disgrace. The government moved the sassi dwellers to housing projects and was going to destroy the caves. But a group worked to preserve them and the area is now a World Heritage site where you can tour the sassis. Part of the city is built into the rock hills and still used. Our B&B was actually a cave! It was damp and cold, but kind of neat place to spend one night (just one). The restaurant nearby was also a cave, but with great food. The city really gave you the feel of being back in time.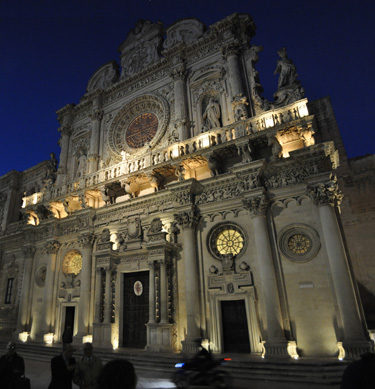 Our next day's travels took us to the very tip of Italy's heel, the Cape of Santa Maria and its town, Leuca. There is a basilica (no surprise) at the tip, with a broad view of the Mediterranean to the south. It was then a short drive to Lecce. Leuca, Lecce, no wonder the GPS was confused – we still aren't sure how to pronounce them. But the GPS got us through endless one way, one lane streets to the front of our B&B. This was an old building, but the owner had really done a great job of updating. We had a private rooftop deck for watching the swallows dance along the dusk sky catching insects and another porch for drying laundry. It was only a few blocks to the main piazza in town, but it was two stories up without an elevator. Why Lecce? The town is known for its wild Baroque church with gargoyles, statues, and fancy carvings all over the front. It is as if the architect got paid by the curlicue. The inside was just as busy and very distracting (or entertaining….if the sermon is boring). It is a good thing that design phase is over. I am sure there is some pun here about fixing what is Baroque, but I'm not going there.
The final stop was the Promontoria de Gargano National Park, on a small peninsula. If Italy is a foot, then this park (on the eastern coast) is where a large stocking would stick out over the back of your shoe (not a precise geographical description). The park was a surprising combination of arid mountains dotted with coniferous forests, winding one lane roads (which the GPS couldn't always find), and couple of small cities. This is the only night that we had not reserved a place to stay.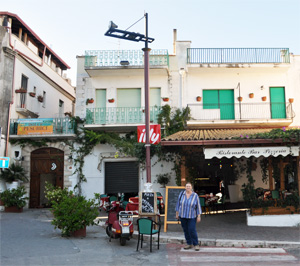 We drove into Vieste at the end of the peninsula just in time for the information office to open (so the guidebook stated), but no one showed up. We got lost finding one recommended place and found the other way too expensive, so we took a few photos and headed to Peschici, the next city on the peninsula loop. The info office wasn't open here either but we had run out of cities nearby. We looked for a sign adverting rooms and asked for one (in broken Italian). Here we found a really inexpensive room above a restaurant, just outside the old city walls. The view of the water and the city from the private balcony were a bonus, which almost made up for the shower head that kept falling off.
The next morning was a long drive back to Rome on the autostrade (tollway), with surprising views of snow capped mountains. We checked into an airport hotel, dropped off the rental car and prepared to go home. This trip was an excellent combination of travelling with friends and as a couple, to huge cities and small villages, with both new and familiar sights. Once again, we are fortunate travelers.
Ciao (goodbye) and grazie (thanks) for reading!
-- Di & Tim
---