France Foray e-Postcard #2
from Our Journey to France
May 24 to June 7, 2014
Bonjour --
At our last email, we were in Paris and about to meet our fellow travelers at our hotel (all of whom were part of our Italy trip four years ago). Let me introduce them to you (in alpha order):
Duane Schecter - worked with Tim at MCC (Management), avid photographer and dry sense of humor.
Linda Fiorenzo - very recently retired obstetrics nurse, camera widow and finder of our villa.
Steve Fiorenzo - worked with Tim at MCC (Accounting), another avid photographer and WWII buff.
Susan Schecter - retired kindergarten teacher, camera widow and tireless walker.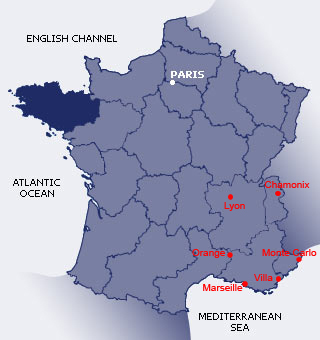 All three couples left the U.S. separately to pursue different interests, meeting together five days later in Paris. For the independent start of the trip we were in Normandy and Brittany, the Schecters met old friends in Germany, while the Fiorenzos hunted down WWII sites on the beaches of Normandy.
PARIS or "If it's Monday, it must be the Louvre"
Before the trip, our group had spent time (over several dinners) planning what to see in Paris during the four days we stayed there. As we met, the list of "must see" sites got longer, supplemented by what we read in numerous guidebooks, heard from friends, and saw on Rick Steves' show. We culled the list and arranged the sites by location. Maybe it was a bit overambitious; we were tired just tracing the routes on the map. Before we left the States, we heard that Kim Kardashian and Kanye West were scheduled to get married the weekend we arrived there (no, we weren't invited). We hoped they wouldn't rent out the Eiffel Tower or cause havoc with our modest plans. They did have a large dinner at Versailles, but luckily, they moved on to Italy.
Our hotel was located in the Latin Quarter, close to Notre Dame Cathedral and public transportation. The Hotel Suez is home to one of the smallest elevators we've ever seen. Although capacity is given as three persons, they must all have to be very skinny to fit in it. Di tried to get in with her backpack on but couldn't turn around to reach the buttons, so she had get out and then back in. Luckily, the group was on the first three floors, so we mostly took the stairs.
Our room was bi-level. The bathroom was up seven stairs from the bed area. This was only an inconvenience tripping up there after lights out. Besides, the arrangement allowed us to hang a lot of hand-washed laundry. The bed had two pillows and a single pillow roll as wide as a double bed. We're not sure how you sleep on one of these rolls since it doesn't move easily and you have to consult (or battle) your bed mate for position. I guess it was just for looks.
We had all arrived at Hotel Suez by 5 p.m. on Saturday evening. So, after a brief rest, we headed to the world famous Notre Dame (notice I didn't say one-and-only). The Cathedral is on an island in the Seine River, Île de la Cité, so we walked over the nearby bridge to get there.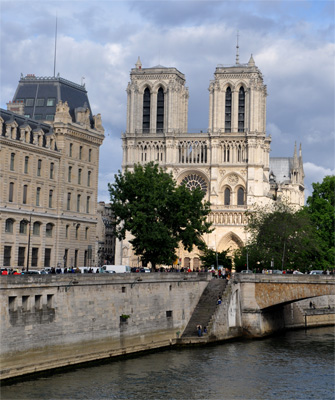 The lines were long, but as entrance was free, we waited and arrived inside during the 6:30 service. The interior was lovely, especially the two huge rose windows. But we couldn't easily wander the church during the service. Afterwards, we walked around the outside of the Cathedral and on to another bridge. This one was a love lock bridge where hundreds of padlocks are attached to the bridge railings. They are put there by couples to signify their love. Most are small padlocks and some are engraved with initials. The largest was a huge motorcycle U-lock. I guess some cyclist wanted to show he REALLY loved her...I hope his bike was still there when he went back to it.
Before the trip, we purchased multi-day Museum Passes and Transportation Passes. The passes allowed us to get into over 60+ museums and monuments (yeah, like we were going to all of those) and have unlimited access to the city-wide busses, trains, and metro for three days. This is especially useful when you are not sure how to exactly get where you are going. Despite at least two maps per couple, we were still often stopping along the way to find out where we were and where we were heading. To add to the confusion, streets changed names several times along the way. For example, there was a Saint-Michel Rue, Boulevard, Quai, Pont, Fontaine (fountain), 2 metro Saint-Michel stops, a Saint-Michel train stop and two separate streets named Saint-Michel Place all close to each other. Since our hotel was on Saint-Michel Blvd, we tried to keep things straight.
On Sunday morning, armed with our passes, cameras, maps and a small magnifying glass to see the maps, we headed out for our first full day of Paris touring. We took the metro to Sacré Coeur, a basilica atop a hill, and walked up. It was a magnificent site with three white domes that almost made it look like a mosque. The tile mosaic of Christ over the altar was breathtaking; it is one of the largest in the world.
Using our pass, we took the funicular (a small cable car on a train track) back down into the city to scope out some souvenirs and make our way to the Arc de Triomphe.
If you look at a Paris city map, you can see that the Arc is at the center of a traffic circle. From it, roads come out in 12 directions. The circle has no visible lanes and is 4 to 5 cars wide. French drivers can therefore try to fit in 7 to 8 cars, all going at high speeds with intermittent sudden braking. Needless to say, it would be downright suicidal to try to cross this circle, so you take an underground walkway to get to the Arc "island". Most of our group climbed 280+ stairs to get to the viewing platform on top, where a panorama of the city could be photographed. Linda and I sat next to the Arc and watched the cars, motorcycles, and other conveyances battle it out for position to exit the circle. Ah, another reason to take mass transit in Paris.
On our list was the Tuilleries sculpture park, near the Louvre. We gathered a picnic lunch and sat there, munching on French cheeses, olives, salami, and the inevitable baguette. It was a delightful place with fountains (one with small boats sailing on it) and flower gardens.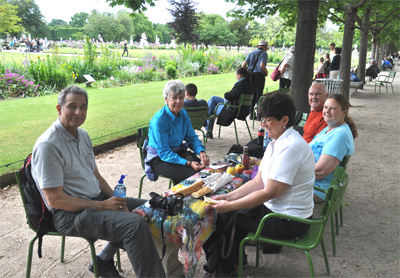 Close by was our next stop, Museé L'Orangerie. Here there are two circular rooms, each displaying four of the impressionist Claude Monet's large water lily paintings. Despite the crowds, this was a most restful place. The muted colors and large size of the paintings made us realize Monet's significant talents. For the Fiorenzos and the Schecters, the paintings were especially meaningful. They had each visited Monet's home and gardens in Giverny, France, where he had designed the water lily gardens and painted these works of art to reflect their beauty.
We then jumped on the metro to catch a concert at the Saint Suplice Church, home to one of the world's greatest organs (with five keyboards). A visiting organist played a variety of pieces as we sat and let the music surround us. For those of you who read The Da Vinci Code, this church was considered to contain a clue to the location of the Holy Grail and has an inlaid brass line that is supposed to be part of the Paris meridian. Actually, neither theory is true but, after the book was published, tourists could be seen knocking on the floor looking for hollow hiding places!
After a short rest, we went to dinner and headed for the Eiffel Tower. It is far larger than we anticipated. At dusk, the tower lights up, making for some great photos (see attachment). Then later, the lights twinkle.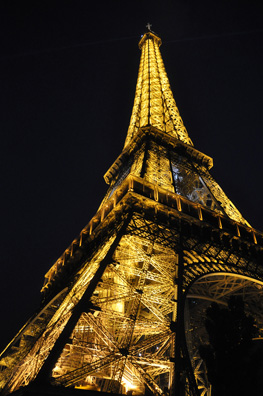 While Steve and Tim went up a couple of levels into the Tower, the rest of us waited beneath it. One could see how intricate and, actually, quite sparse the structure was. Di especially appreciated the names of scientists and mathematicians engraved in the tower...Eiffel's tribute to the giants on whose shoulders he stood to design this architectural masterpiece. Foot weary, we went home to rest.
After an omlette breakfast, day number two started at that most famous of the Paris museums, the Louvre. Our Museum Pass allowed us entry without standing in the ticket line. Unfortunately, lots of other folks had passes, too. But we were soon inside. As each couple had some different "must sees", we broke up into two groups and arranged to meet later.
Tim and Di wanted to see the Mona Lisa (smaller than expected), Venus de Milo (still no arms), Winged Victory (away for restoration) , Michelangelo's Slave statue, the Wedding at Cana painting, and the Code of Hammurabi. The Louvre has three wings and endless corridors. It is said that if you just walked by all the exhibits without stopping, it would still take you nine months to see it all. So we planned a whirlwind tour to catch the art on our list. Despite a detailed map (which was sometimes upside down), we managed to pass by the Mona Lisa (and the statue of Diana) at least four times in our attempt to see the laws of Hammurabi carved in stone (the last item on the list). It was almost like being on a traffic circle without an exit. Finally, we found the stone and met the rest of the group. Needless to say, we all needed a rest after the Louvre. So many masterpieces, so much walking, so little time.
The afternoon was spent relaxing, with Tim out looking for a charger for his camera (he'd left his at home). After much searching, he found one at 1001 Piles (translated as 1001 Batteries). Lucky for him, or else it wouldn't have been as easy to take the over 2,800 photos he did this trip!
In the late afternoon we headed for, reputedly, the best gelato (ice cream) in Paris. Of course, the shop was closed but we found a storefront that sold the brand (it was luscious). Then Susan noticed a small creperie (crepe restaurant). The atmosphere is just what you would imagine for a quaint, but crowded French restaurant off the main street. There were just a few tables and we had delicious meals of crepes, soup, beef, dessert crepes, flourless chocolate cake, and wine. Then it was back to the Sacré Coeur basilica for some night photos for the Schecters and us.
It was our last full day in Paris and we still had lots to see. First, to the D'Orsay museum for a great Van Gogh exhibit. We had seen the Van Gogh museum in Amsterdam, but this exhibit had some excellent additions.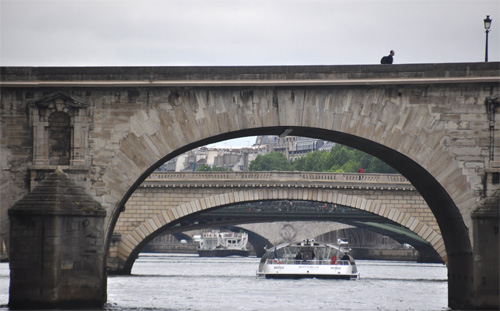 Our Museum Pass included a boat cruise on the Seine River. So, although it was overcast, we got on board. It was interesting to see the houseboats moored at the river's edge and other views of the buildings we had seen from the street. Sunny weather would have been so much better, not only for the photographers but also for their wives who had to listen to the griping ;-)
The guidebooks stated that, if one went to the roof of Le Bon Marché (a large and famous department store), there would be an outstanding view of the city. Also, the store is known for its food hall. This has huge counters of fancy meats, pastries, breads, veggies, salads, and pre-made foods as well as shelves of foods from around the world. Two of our intrepid photographers (Steve and Tim) tried to get to the roof, but it required contacting security and a bit of hassle. So we settled for getting food for our evening in-hotel dinner. At the bakery counter (boulangerie) the Schecters found some skewers made up of several tiny loaves of various breads. We had some interesting olive-filled pastries.
After shopping, almost everyone got in line to see the stained glass windows of Saint Chapelle. Linda and Di slogged, instead, back to the hotel to put our feet up. Di had been wearing her FitBit, a device which counts the steps you take and miles you walk. On this day, Di had covered 6.98 miles (22,901 steps)! We suspect our endless route around the Louvre the day before would have resulted in higher numbers. It would be good to sit for a while the next day on the train to Lyon. Before packing it in, Tim and the Schecters walked to the formal Luxembourg Gardens and later Tim hopped the metro for a few more night images of the Eiffel Tower. If you do need an Eiffel Tower photo, he has over 140 of them!
LYON or "Jumpy on the move"
Our second major city was Lyon, 470 kilometers (292 miles) southeast of Paris. To shorten our transit time, we took the TGV high speed train from Paris early the next morning. The trip took just a little over 2 hours, so we were averaging about 150 mph. It was a comfortable trip and much easier than driving.
But our driving days were not nearly over. After we arrived at the Lyon train station, the guys checked out the rental car that Duane had arranged. It was always in question whether the rental companies had a vehicle big enough for the six of us and our luggage.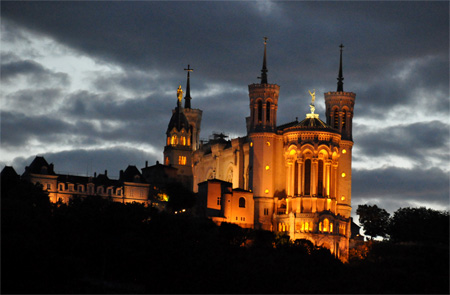 We ended up with a 9-passenger van, a Citroen Jumpy (pronounced joom-pay). It was comfortable (more so when the luggage was elsewhere), but huge. Remember that French cars tend to be small, as do the parking spaces, entrances to parking structures and the spiral traffic lane to the floors of parking structure. This meant that, when we got to our nearby hotel, we were hesitant to try to squeeze the Jumpy into the underground parking. As it was, street parking was available as long as you were there to stuff the meter until 7 p.m.
The Lyon Ibis Hotel is one of an international chain. The Schecters recommended it (and the Fiorenzos stayed in one in Normandy). It was modern, a few blocks from mass transit and next to a decent restaurant. Also, it was close to major roads leaving the city. Although we were staying in Lyon three nights, we were only touring the city the first day. Two day trips were on our agenda.
We hung around the hotel until four to feed the parking meter (3 hours maximum) then headed back to the train station to find a bus to the Notre Dame basilica (yep, another one) atop the hill of Fourvière. Knowing how much we used our Paris pass, we decided to get a day all-transit pass in Lyon. Easier said than done. We talked to information, getting a map and bus numbers for our trip. We waited in line for the transit pass machine only to find that wouldn't take our credit cards (more on that later), but only coins. So we went back to information to find out where to get change for a 20€ bill. The "change machine" was actually a person in the station. Then back to the transit pass machine and then to the bus stop on the other side of the train station. We were already hot and tired.
Duane needed a replacement converter so headed to the French equivalent of Best Buy, down the street. The next bus would be a while anyway so we waited for him at the stop. Good timing on his part, coming back just as the bus pulled up. Having only taken the metro in Paris, it is interesting to see a city while on the bus. You get a better feel for the neighborhoods, but it is a little more stressful making sure you get off at the right place. We were in luck as we got off at the end of the line.
Walking across a large town square and over a bridge, we could see Notre Dame but not how to get up there without walking. Finally we found a funicular (the world's oldest working one) taking us to the top. The basilica was not that old (19th century) but the outside is quite ornate with a huge gold statue of Virgin Mary on one of the towers. In the basement crypt were various statues of Mary, donated by churches all over the world (for example: India, Poland, Hungary, Italy, Philippines).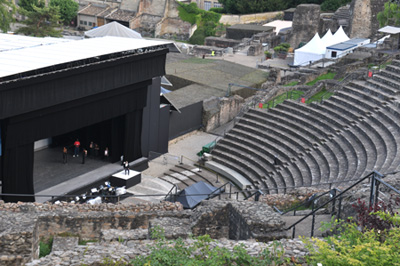 Some were in native dress with skin color to match that of the land of origin. From the basilica grounds, you can see over the old town. The rooftops were varied colors with random placement. Even from the hilltop, you could see how the city's borders grew over the centuries.
We then walked downhill to the nearby ancient (but semi-restored) Roman amphitheater ruins (43 B.C.). These ruins were massive and you could freely walk among them. Both amphitheaters are used to hold outdoor entertainment. When we were there, a theatre group was rehearsing a scene in which American blacks were singing about picking cotton. How the cultures mix!
At the base of Fourvière hill is another church (must be pre-funicular) on a large square. In a small restaurant here we celebrated the Fiorenzo's anniversary a day late. After walking back to the bus stop, we realized there was no return bus. A half-understood conversation with the non-working bus driver got us to the metro and back to Hotel Ibis. Thank goodness we had the transit pass.
BEAUJOLAIS or "what's French for 'can I buy the glass?'"
Spurred on by a hungry parking meter and an urge to see the countryside, we got an early start out of the city travelling to the northwest, the Beaujolais (as in wine) area. Duane had planned our tentative route to include some lovely small towns, a meal or two on the road and (hopefully) a wine cave/tasting.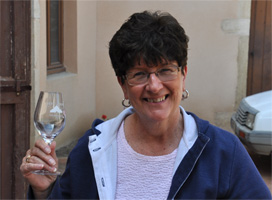 We knew that this day, Ascension Thursday, was a national French holiday. As such, most restaurants were closed. We passed through several seemingly deserted towns (lovely but almost empty) before finding a place to eat. It looked like everybody just left the area. We still walked through a couple of the towns, taking photos and enjoying the views.
Traveling on a holiday didn't bode well for wine tasting, but we finally found one place open, a family home with the winery attached. We were greeted by a woman who spoke less English than we did French (hard to believe!). But she had us try several wines from her family's vineyard...we bought 3 bottles of white Beaujolais as well as 2 of red wine between us. Hey, we needed something to drink at the villa the next week! Linda, who collects such things, asked (through hand motions and a little French) if she could buy one of the tasting glasses. The woman left and returned with a new (free) glass that had the winery name etched on it. Maybe wine is one of the universal languages.
Our last stop that day was at the medieval walled town of Perouges. It is one of several perched towns in the area; towns that are truly nestled into a hill and requiring an uphill walk to enter. It is a pedestrian-only town (except for service vehicles) and almost entirely paved in cobblestone. Although it was a little rough walking, the narrow streets and old stone buildings really made you feel like you were in a different era. We ate at a restaurant specializing in the local foods, including a gallette Perougiene. This pastry is like a giant sugar-coated pizza crust. It was ok, but a bit dry. However, from the folks we saw carrying large white bags out of the city, it must be popular.
CHAMONIX or "it's all downhill from here"
On our last day in Lyon, we left early for the French Alps and the town of Chamonix, close to Mont Blanc and the Italian border. Chamonix was the site of the first Winter Olympics in 1924 and is known for the cable cars going up to the top of the Aiguille du Midi "the needle of the Midi area" mountain at 3,842 m (12,605 ft).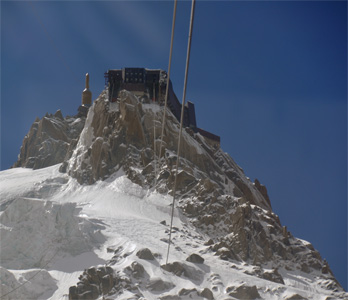 It takes two cable cars and an elevator to get to the top. Everyone went up the first cable car, but only Steve, Di and Tim went all the way to the summit. Steve and Tim were after the ultimate photo, but were soon thwarted by incoming clouds. Di just likes heights (as long as there is a sturdy guardrail). For a brief moment, you could see all the way down, truly an awesome sight. Although there are higher ski areas in Colorado, the starkness of the jagged peaks around you was mesmerizing. However, we had a little trouble catching our breath in the thin air.
After a quick lunch, we headed for Annecy, a tourist town that is on a huge multi-recreational lake and surrounded by mountains. It reminded us of Lake Tahoe, in a way. The drive around the lake was very slow due to the crowds (holiday weekend), but the area was beautiful. Tim and Di had spent some time here over 20 years ago with friends. The long drive back ended our time near Lyon. And Steve, a car buff, passed a Ferrari and five Maseratis on the freeway (yeah, the Maseratis were on a trailer-truck, but he still gets bragging rights).
HEADING TO THE VILLA or "Chocolat et L'Orange"
We were on the road early the next morning, Saturday. Although the final destination was our villa on the Mediterranean, we had a few important stops to make along the way. Is it fate or coincidence that the village of Tain L'Hermitage and its "City of Chocolate" was just a short distance from Lyon?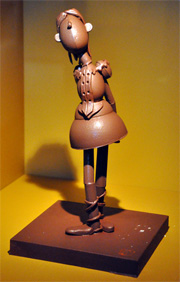 In any case, we were anxious (some might say drooling) to take the much-lauded chocolate tour of the Valrhona Company (a famous name among pastry chefs).
We parked the Jumpy in the nearest (large) parking space and walked into the storefront. Piles (and samples) of chocolate delight in many flavors awaited us. But first, the tour. Although it cost 10€ (about $13), we each got a bar with six samples and a ticket to pick up two more samples. The tour was self-guided through well-done displays on the history, growing, and manufacturing involved in chocolate. Along a simulated factory line, you could taste some of "steps" in making chocolate. There was even a display of chocolate doll-like statues representing various periods in art, like a Van Gogh with one chocolate ear! We left the store on a sugar high and not empty handed.
Next stop, the Roman Theatre in L'Orange (yep, a city called the Orange). We had seen great examples of Roman amphitheaters in Lyon, so this one was a letdown. Although you could view some home and shop ruins from above the dig, the theatre had an entry fee (9.5€) and had been almost completely restored (or is that "unruined"?) as a concert/opera venue.
All trip, the photo guys had been talking about seeing (and snapping endless pictures of) the huge Roman bridge aqueduct called Pont du Gard. Built in the first century A.D., this bridge was part of a system that carried up to 50 million gallons of water a day from a mountain to the city of Nimes 31 miles away. You've got to admire those Roman engineers. Not only is the bridge still standing over 2,000 years later, but along its 902 foot length it only descends 0.000005 of an inch in height! Although there were a lot of folks at the Pont, it was easy to get good photos. You could walk under the aqueduct, in the water, or up to its second level. While searching for the ultimate shot, Tim and Steve headed down an unsigned path. After quite a long time, Susan went out to search for them. They had taken a treacherous path to find that perfect view, but there had been an easier path nearby. Cliffs and hillside paths give us photo widows grey hairs!

We still had a long way to go before getting to the villa, so we hopped on the tollway. If we had been frequent travelers, we would have had an auto pass for the tolls, so we could roll right through. Instead, we tried to pay with our credit cards. No luck! Di and Tim had easily used their card in Brittany, but it didn't work now, although it had a chip on it to use in European travel. No one else's card worked either. The sign showed that Master Cards were not accepted. So we hunted through pockets for change. Pity the cars behind us. To avoid future delay (and embarrassment) we created a bag of change (to which everyone contributed) to help us pay those tolls, parking fees, etc. And the easiest way to get change for the bag is to head to a tollway gas station and buy a Coke with a 20€ bill.
Although we had two GPSs and specific instructions from the owner (a retired professor), it took us a while to find the villa. It was 26 kilometers from the tollway, mostly on a winding two lane road. Then, up a steep hill and more winding roads until we got to a gate. Lucky us! Although we had the gate security code, a car was coming out so we went in after him. Unlucky us! We soon realized that we had gone through the wrong gate and couldn't get out (wrong code). We had to wait until someone else came through, then wander around until we found the right gate, around a narrow blind curve and to the villa gate. All uphill. Our contact was waiting for us so we got right into the villa. The villa not only was worth the drive, it far surpassed our expectations.
THE VILLA or "lifestyles of the rich (but not famous)"
Imagine a large modern home, built into a hillside with 3 bedrooms, 3.5 baths, library, huge living room, multilevel deck, tropical garden with blooming birds of paradise, and pool. Now imagine that from almost every room you can look out over a small bay on the Mediterranean Sea (see attachment).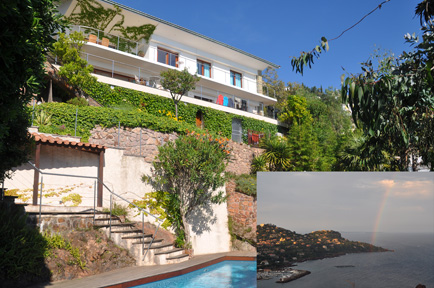 In the morning you could see the sunrise from your bedroom doorwall. In the evening you could watch the boats (and occasional cruise ship) go by as you ate dinner and sipped on French wine. Lovely setting, beautiful house. Although the weather was not perfect (overcast at times), the pool was very cold, and you hung your clothes out over the bannisters (as there was no drier), who could complain? The furnishings were modern (although not always comfortable) and the owner's diverse interests apparent in the artwork and library. We were surrounded by such houses, different in design but similar in comfort. You just know such level of luxury doesn't come cheaply.
The group would eat breakfast at home with some of the group (mainly Duane and Susan) walking down the hill (and up again) to get fresh baguettes in the morning. Then all (or most) of us would head out for a day trip. We ate dinners out only a couple of times, preferring to cook at home and enjoy the view.
The day trips varied in length, who drove, and who came along. On Sunday, Duane drove down the coastal road to St. Tropez, known for its beautiful people and luxurious yachts. As Steve said "It smells like money here." From high end stores and restaurants (one had a seafood dinner for two for 156€ -- that's $212!) to the huge custom yachts, we were out of our league.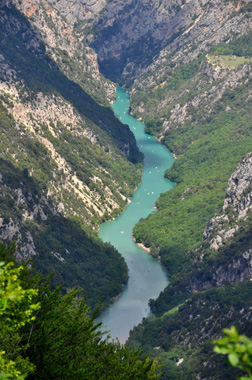 Susan and Duane did buy a lovely piece of art directly from the artist, however. Dinner was at a local seafood place. Two interesting dishes were fresh cod (so different from our frozen stuff) and a fisherman's stew (really just a broth but containing mussels, shrimp, and other seafood).
The U.S. is not the only country with a Grand Canyon. Steve drove the Jumpy on Monday along part of the Gorges du Verdon. It is a 700m (2,297 ft.) deep gorge cut by the turquoise-green Verdon River. We followed the steep and winding canyon road quite a distance, making frequent photo stops, until we reached the Lac de Sainte-Croix, a man made reservoir at the end of the Canyon. The views were wonderful, despite the overcast skies. Not all the pictures this day were of scenery. Next to the Jumpy's tire one of the guys found a parade of over 30 caterpillars following each other down the trail end to end. It looked like one long skinny caterpillar. We saw Mother Nature in all sizes this day.
Steve's father had been injured in France during WWII and had spent a lot of time in a hospital near Marseilles. Through photos and a lot of research, Steve had located the hospital, so he and Linda spent Tuesday morning driving there. Although he tried to talk to the folks running the hospital, no one spoke English well. But he did find out that they were unaware that the hospital had been used to treat soldiers and that currently it is a psychiatric hospital. Finding this place has been a long time quest for Steve and we are so pleased that he did.
The Schecters and Tim later went to the small town of Mougins, a perched village frequented by artists (Picasso), photographers (Man Ray), politicians (Churchill), and designers (Dior, YSL). Its proximity to Cannes and beautiful views has made it popular for decades.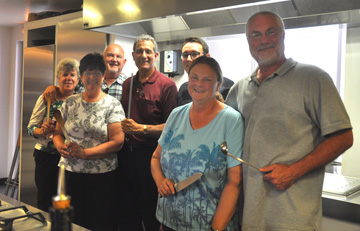 It had maintained some of the old town. For example, there was a long laundry trough with running water and two compartments (wash and rinse) which was used by the village women. The Museé de la Photographie had images of Picasso and large format cameras.
Wednesday was cooking class in Cannes. Under the direction of Chef Nicolas, the six of us created (and ate) Tomato Fine Tart (with basil, olives, and mozzarella), Chicken Saltimbocca (stuffed with prosciutto, cheese, tomato confit), and Chocolate Mousse with Hazelnut Oil (I can see your mouths watering!). Although none of the dishes were really difficult to make, we did learn some new techniques. And it is always great to have someone else do the dishes (see attachment). After a short walk along the Cannes marina (film festival was the week before) we walked through perched city of Saint Paul de Vence (too crowded and touristy). Our evening was completed by seeing a rainbow over the Mediterranean.
The next day, the Schecters and Trainors went to the perched village of Eze, far less touristy than Saint Paul. It had the unique hilltop Jardin D'Eze, which was a large garden of blooming cacti and other desert plants. Monaco was nearby, so we walked through Monte Carlo to see marina but they were cleaning up from the Grand Prix race. We were underdressed and underfunded to get into the casinos, but no one really had any interest anyway.
Friday was our last full day in France. While the Schecters and Fiorenzos stayed at the villa to relax, Tim and Di drove to Antibes, a seaside area. There we walked part of the shore/cliff trail. It was rocky in spots, with guardrails at places you could look down over the sea. The scenery was wonderful (a sailboat race was in session) and the trail not crowded. A few photos of the local lighthouse, then on to Biot. There are several glassblowing factories in Biot. Most unusual was La Verrerie de Biot, which specializes in dinnerware and glassware that contains tiny bubbles. They also made glasses that glowed in the dark. Too bad our dining room doesn't have a black light. These were cool!
We celebrated the end of our trip with dinner at a local pizza/salad restaurant and retired early. Why? Well, we had to get up the next day at 4:30 a.m., so we could be out by 5:30, at Nice airport by 6:30 for 9 & 9:30 flights home. For us, it was Nice to Paris to Detroit, where we were picked up by Di's dad. Then Tim drove home. A long day, a great trip with friends.
We know this has been a long e-postcard, so thanks for sticking with us. As usual, we'd like to end with some of those oddities and customs that make travelling in a foreign country such fun: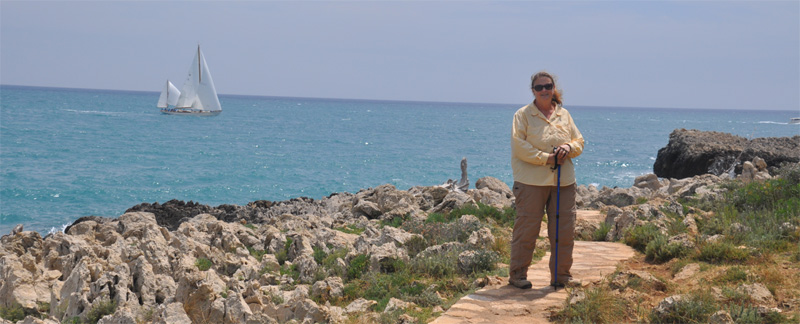 FOOD
A local favorite (and one of Di's) was quenelles, a dumpling of corn meal, served with mushroom sauce. Duane had roast duck breast that was excellent. Steve had chicken livers on a salad that was not (to him) excellent.
Other culinary delights were crepes, salad nicoises (salad with tuna, potatoes and green beans), crème brulee, cruisettes and Florentine pastries, lemon Fanta soda, and (of course) the wines, the bread, and the chocolate.
We were in a very small café in a very small village that had a huge espresso machine. We saw such machines in many places. One place could make 4 espressos simultaneously. A café is an expresso, a café americain is a coffee with milk. Great coffee here.
Once you are seated at a restaurant, you may stay as long as you wish. Several hours is okay. The food often comes slowly over several courses. You often have to chase down the waitperson to ask for the bill ("l'addition, s'il vous plait") and then you can still sit for a while longer. No fast food in these places.
We shopped at a very large store, Geant (Giant) which is like a combination Walmart and Meijers. To get a cart, you have to insert a euro coin into the cart, which releases a lock. When finished, you lock the cart back up and it returns your money. Great idea.
In the Geant, there was one huge aisle (both sides) with just various packaged cheeses, mostly French. This does not include a separate counter for just hand cut cheese. We'll miss that cheese!
In France, putting the suffix "-erie" at the end of a word indicates that it is a market for something. Boulangerie = bakes + market, patisserie = pastry + market, boucherie = butcher + market. However, I doubt the origin of sandwicherie and saladerie, which we saw on signs.
CUSTOMS/OBSERVATIONS
In Lyon we saw more than a few people using a traditional scooter (you know, one foot on the scooter, the other pushing). Some were dressed in business attire.
In Lyon we also saw a businessman zip by on a hands-free Segway. He just balanced and rolled along, hopped off when he was done, picked up the Segway by a handle, and carried it into an office building.
The water towers in France are shaped like a huge full martini glasses.
While waiting for our plane from Paris to Detroit (pronounced De-twa by the pilot), we saw the next plane was going to Ouagadougou. You know, the capital of Burkina Faso? You know, the former Upper Volta? Yeah, we didn't know either.
Our GPS pronounced Mandelieu as "Mandy Lou" and Alexander III Road as "Alexander eye eye eye".
It is still possible to find those infamous bowl-less toilets (aka hole in the ground) in public places. Also getting a toilet seat on an actual toilet bowl is not a guarantee.
France - a place where you can find restaurants named "Goo Sushi" and "Hippopotamus Café", cars named Jumpy, Twingo, and Trafic and a beauty parlor named the "Oops Salon". These are for real!
Thanks for reading! Keep in touch. Au revoir,
-- Di & Tim
Note from Tim: I just want to confirm with everyone that the above is all Diane. These e-postcards are sent by me because I attached the images and try to check the formatting ;-)
---