E-Postcard #7
from Our British Isles Holiday
with Chris and Rick Hamill
11/23 to 12/6/2002
Hello Everyone,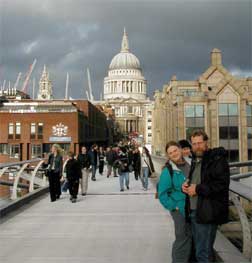 Very early on a Saturday morning, we met our dear friends Rick and Chris Hamill at London's Heathrow airport. The Hamills joined us for two weeks, sharing laughs and adventures. Since we were sans car for a few days, the four of us whisked off to King's Cross rail station to stash our luggage so we could explore London unburdened. It was a whirlwind beginning to this phase of the trip. By walking and using the tube (subway) we were able to explore the Thames River past the Tower of London and New Globe Theatre, eat lunch at the Tate Art Museum (while it rained), shop for train food at Harrods's famous food hall, see (part of) Kensington Gardens and still get back to King's Cross in time for the 4:00 p.m. train to Edinburgh. We arrived in that city too wired to sleep so we walked to the castle and down the Royal Mile before collapsing. Tim and Di were exhausted (we had been up since 5:30 a.m.), but the Hamills had taken the red eye flight from Detroit. They were still on Michigan time and definitely ready for sleep.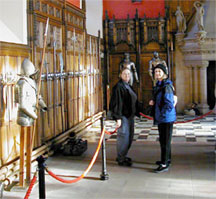 Although Tim and Di had been to Edinburgh earlier in the trip, we saved viewing Edinburgh Castle until Rick and Chris arrived. This is not a Cinderella castle, but a (still) working, huge military fortress, atop a steep hill that overlooks the city. It is an ever-developing castle so many types of architecture can be seen; from a twelfth century chapel to fifteenth century palace rooms to twentieth century military housing. This is a place dear to the hearts of the Scots; home of the Scottish royal objects (crown, orb, and scepter) and the Stone of Destiny on which early Scottish kings were crowned. Although the Scottish people just recently voted to elect an independent parliament, many have never felt themselves subjects under English rule.
The next few days were a whirlwind tour of the highlights of the Scottish Highlands. Renting a car in Edinburgh, we drove along the Firth of Forth (say that thrice!) to St. Andrews, the holy city of golf. Since none of us are avid golfers, we were content to bypass the Museum of Golf and just gaze at the Old Course, New Course and the other five in between.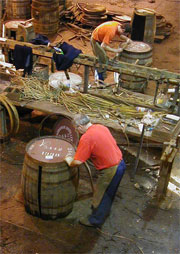 It was interesting to note that Mary, Queen of Scots, played golf (mid 1500s) and one monarch forbade golf playing as his archers were practicing putting instead of shooting. Onward to Pitlochry, a small town, where Rick and Tim toured a distillery, while Chris and Di shopped. (Yes, there were still some unvisited distilleries!).
En route to Dufftown, we saw a working cooperage, where whiskey barrels are repaired. Since Scottish whiskey is aged in pre-used American (bourbon), French (wine), and Spanish (sherry/port) barrels and a barrel can be in use for up to 60 years, barrel repair is in demand. This is not production line work. Each cooper is responsible for the entire process of pounding off the metal rings, refitting staves and ends, and reassembling the barrel. He is paid only when a barrel proves water or whiskey-tight. We were amazed at the men's speed and precision. This is hard physical labor.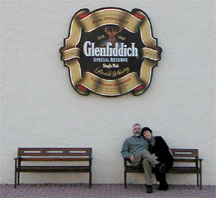 It requires a four year apprenticeship but the pay is three times that of the average worker. The ancient skill of coopering is alive and well. Later, we all took the tour of the nearby Glenfiddich Distillery (one of Tim's favorites) so the rest of the evening was mellow.
As we moved west, we stopped at a variety of historical sites including an 1100 year old stone with Pictish carvings, an old doocot (dovecote) and battlefield, a country manor, and the isolated 16th century Castle Urquhart on the shores of Loch Ness. The castle ruins helped us to imagine how it was during that time. Life was hard, cold, and one was under constant threat of invasion. But as Tim and Di had discovered earlier, the stark beauty here in the mountains is compelling. Also, we all appreciated traveling in low season. It may not be warm and some places we wanted to visit were closed, but we often had famous sites to ourselves. This enabled Tim and Rick, ace photographers, to get those rare shots of tourist sites without the tourists. There was one disappointment, however. Nessie had obviously left Loch Ness to holiday in Greece, so we were unable to get that planned photograph of her. Did I mention that Rick and Tim got to taste 36-year-old whiskey at another distillery? Oh, I must have forgotten.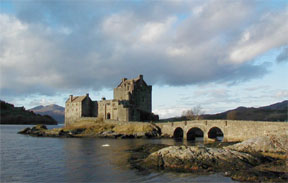 Before the Hamills had arrived, we experienced a fairly steady succession of cloudy days, with some showers. Rick, however, has a well earned reputation of bringing good weather with him when we vacation together. Fortunately, he was able to overpower the dubious talents of the weather goddess. It wasn't cloudless all the time but when we were ready to take some photos or walk about, we could usually depend on a sunny patch of sky to appear over our heads. Thanks, Rick. (A side note. As soon as the Hamills flew back home, the sun hid again.) The next day, we stopped at Eilean Donan castle, seen in the movie "Entrapment". In a grey sky, Rick conjured the sun to appear just long enough to get a few castle shots.
Our next destination was the Isle of Skye, one of the Inner Hebrides.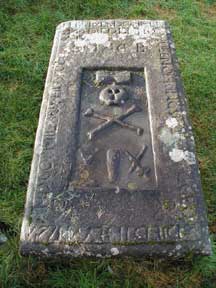 Known for its early Christian ruins, the Talisker distillery of smoky-flavored whiskey, and lovely small port towns, Skye can be reached by bridge or ferry. It is a large island with dramatic scenery of volcanic plateaus and glacier-formed mountains. Few people (or cattle or sheep) live here. We can only imagine how difficult it would be to earn a livelihood in this rocky place. Sheep raising is a community activity. Although every farmer has his own flock and private land, there are common pastures and everyone helps in the shearing. We drove around the island stopping at a small medieval site where local bishops lived, a castle, and to take lots of "beautiful vista" photographs. Although Skye doesn't seem to have the amenities of other tourist destinations, it would be lovely to spend more time here in warmer weather. The hiking and biking opportunities are endless.
On our way to Glasgow, we stopped at a small roadside pub for lunch. It was there that Rick ordered haggis, a Scottish specialty. Haggis is a sheep stomach stuffed with lamb parts (unnamed), oatmeal, and some spices. It is then boiled, removed from the stomach and fried. It looks like corned beef hash (sort of) and is considered a delicacy. Tim and I have been avoiding it from day one; our sense of culinary adventure has its limits. Rick gets our vote as Braveheart (or is it Bravestomach?).
The next two days were an all too quick tour of Glasgow, Scotland and then by train to Bristol, England. In Glasgow we dropped off the car and walked about town looking for examples of buildings designed by the Scottish architect Charles Rennie Macintosh. His style, called Glaswegian Modern, includes large bay windows and fused wrought ironwork with an Art Nouveau influence (says the guidebook).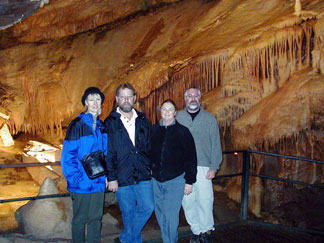 It kind of reminds Tim of the designs found in Frank Lloyd Wright's stained glass. In Bristol we walked across town to look at the wonderful Clifton Suspension Bridge designed by Isambard Kingdom Brunel (who also designed London's Paddington Station). The bridge, built in the 19th century, spans the Avon Gorge and is a work of art in its own right.
We picked up another rental car in Bristol and headed south towards Devonshire. On the way we drove through the Cheddar Gorge. This is the home of two famous objects, Cheddar Cheese and Cheddar Man. The Gorge contains several large caves, which we toured. In one, the story goes, a local milkmaid left a pail of milk and came back later to find it had turned to cheese. True or not, the cheese was originally made in huge cylinders and stored in these caves. The real cheddar we tasted here is a far cry from the plastic yellow stuff we get at home. Cheddar Man is a skeleton found here (in a cave) and determined to be of a 9000 year old stone age man. DNA tests show that a very distant relative still lives in the area (but not in a cave).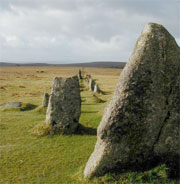 Dartmoor National Park, northeast of Cornwall, is a rocky, harsh environment sprinkled with Neolithic rock formations, heather covered hills, and herds of small wild ponies. It is also the site of the Sherlock Holmes story "The Hounds of the Baskerville." We stopped at a site marked "Stone Circles and Alignments", thinking we would find a few stones in formation. We were awed by the numerous circles (one containing a large carved circular stone), several long parallel lines of stones, a burial chamber with the cover partially removed, and other formations we could not identify. It was obviously an important settlement or religious area at one time. This was one of several sites we saw over the next few days. We wished that the stones could talk to us of the now forgotten people who lived there in the past.
Before we had left the U.S., we had arranged a four night stay at a Landmark Trust property called Frenchman's Creek. Landmark Trust restores old buildings of historic or cultural interest and allows people to rent them for holiday.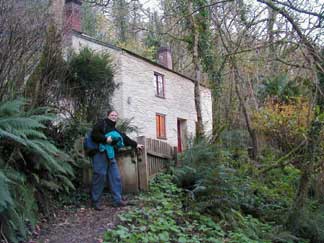 The cottage at Frenchman's Creek was chosen because it could sleep four, was reasonably priced, and was in Cornwall, where Rick's ancestors lived. It is also (we discovered later) the title of a book by Daphne DuMaurier (author of "Rebecca"), a romantic novel of smugglers, pirates, and a wild noblewoman. When we received information about the cottage, it included the suggestions that we bring torches (flashlights) and wellingtons (rubber boots), gave the phone number of the nearest farmer who could tow us out of the mud (if we needed it), and told us where to find the wheel barrow to haul our luggage if the car couldn't get down the road to the cottage. What were we getting into?
Well, it was a long and winding road there. Tim gets kudos as he drove the car through passages (so-called roads) where 10 foot high hedges on both sides left just a few inches to maneuver, through two tight-fitting farmer's gates, and down a long steep muddy road with a sudden turn at the bottom. There it was, a lovely old home with just two bedrooms, a bath, a kitchen and a sitting room (see attached photo). It was on a small creek and surrounded by ferns and forest, birds and squirrels. This place was instantly welcoming and comfortable.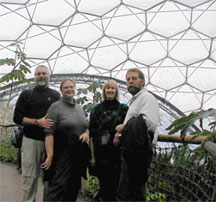 We spent the next two days seeing nearby sights. One day we were to the Eden Project, two large biospheres containing tropical and semitropical plants. The other day we drove around to Lizard Point (the southern most point in England), Saint Michael's Mount (an island only reachable during low tide), and some excellent ancient ruins including a carved memorial stone, a circle of stones called the Merry Maidens, and others. One ancient carved stone, shaped like a doughnut set on edge, would supposedly cure back problems if you crawled though it. This myth is probably sponsored by the local chiropractor as anyone who did contort themselves through (like Rick did) would need treatment afterward.
The last day was spent walking around local footpaths to a small port village for lunch and back along the water that followed the Helford River to Frenchman's Creek past the cottage. As it was dark by 4:30 p.m., we would spend the evenings at home reading and talking. This was a most restful time.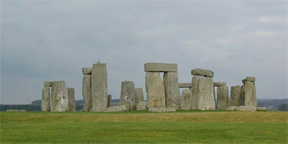 A very long drive back to Heathrow via Stonehenge and Salisbury Cathedral completed our time with Rick and Chris. We enjoyed the conversation, eating numerous Cornish pasties (meat pies), drinking scrumpy cider (local alcoholic apple cider), using clotted (thick) cream in coffee, and (most of all) the companionship. Thanks, Chris and Rick for a wonderful time.
We are on the last leg of our Britain/Ireland journey, so you may not hear from us until we return home. Until then, take care.
Di and Tim
---