E-Postcard #1
from Our British Isles Holiday
8/13 to 8/24/2002
Greetings to all of you.
You will sometimes notice a different email address for us, ttdk uk@aol.co.uk. We have had to open an AOL account in the U.K. to be able to send out these e-postcards using a British 800 phone number. You can still contact us via our U.S. account at ttdk@aol.com. So here we go: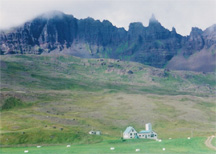 After an early evening flight out of Detroit, we arrived at 7 a.m. in Keflavik, the airport for the Icelandic capital, Reykjavik. We hopped into a small rental car, grabbed a map and some munchies for the road (that we could only identify by the pictures on the package), and headed for the north. As we drove, we got a feeling for the lay of the land. Perhaps you learned "Iceland is green, but Greenland has ice". Well, we haven't visited Greenland (yet!), but Iceland is hardly frozen tundra. We passed by fields of newly mown hay, fast moving glacial rivers, snow-capped mountains, fiords, hundreds of beautiful Icelandic ponies of many colors, thousands of sheep, and almost no trees outside of the cities (and they were small at that).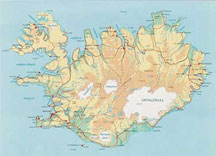 The main road around Iceland is the Ring Road, Highway 1. It is mostly two lanes with one lane bridges. It is mostly paved with areas of loose gravel. It is mostly devoid of guard rails, especially where there are winding hillside curves hugging dizzying drops. It is mostly clear of traffic except for the occasional sheep that bolts in front of you unannounced. It is, I repeat, the main road of the entire country. The other roads (we know from experience) are in far worse shape. At least the signage was good, with places of interest well marked. Too bad we can't read Icelandic.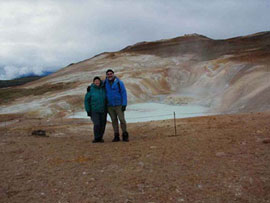 Our goal was the geothermal area around Myvatn (translated as Midge Lake). We were warned about relentless midges (small bothersome insects) so we brought our netting hats. Fortunately, the midges were on holiday. Instead we saw wondrous bubbling mud pots, steam vents (see attached image), recently erupted (1979) volcanoes, lava tubes, and strange rock formations. Eventually we reached the town of Reykahlio, near the lake and checked into our sparse but very clean guest room. As it was early evening and we had already seen most of the things on our list, we decided to make the short (22 kilometers) trip to Detifoss, Europe's most powerful waterfall.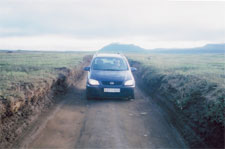 If you have been to Niagara Falls, you know about the masses of tourists, hotels, souvenir shops, and fast food restaurants. Ah, but this is understated Iceland. As we turned off of the Ring Road, we should have seen the warning signs: no traffic, a one lane stone covered path (not even gravel), and no "Welcome to Detifoss" billboard. Tim drove slowly but carefully up, down, and over large ruts, rocks, and ridges. In some places, the sides of rock, where the road was carved, came dangerously close to the sides of the car. (Note to the Vostals: the road to Miller cabin is cake after this!) Two cars passed us in the other direction, not an easy task. After several scraping sounds on the bottom of car and almost an hour later, we saw another sign. It pointed in the direction we had come from and could be translated as "4 wheel drive vehicles only" (Jeff Stipes, we thought of you!).
Oh well, we were already this far, so a few kilometers later and we found the, um, parking lot. Actually it was just a flat place for a few cars and a sign indicating that the falls were a 20 minute walk away. A short but strenuous hike later and we were there…an incredible volume of water, misting like rain, loud enough to drown out talking....just us and the waterfall and six other people. An unforgettable experience.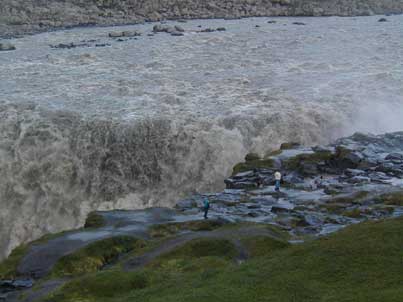 It was nearing 9 p.m. and just dusk (here the sun sets at 10 p.m. and rises at 4:30 a.m.) and we figured another hour return trip. We headed back to the car only to find a sizeable puddle of oil beneath it. One of those scrapes had resulted in a small hole in the oil pan. Here is the choice: a slow careful drive back at the risk of losing all oil, spending the night in the car, and an expensive tow in the morning OR driving back as fast as possible hoping the car will make it to the nearest petrol station, before it is out of oil. Tim drove like he was at LeMans. We made it back into town with (a little) oil to spare, stressed to the max, and only one hubcap remaining on the car. A friendly store clerk called a repair man who tied the rental to his car with a rope and towed it away, telling us to call him in the morning.
As we walked back to the guest house we wondered….How much would this cost? Do they take Visa? Would the car be ready tomorrow? How could we get into so much trouble in so little time?….we had left Detroit only 24 hours before.
Later the next morning we went to pick up the car. The repairman had driven to Reykjavik and back (about 500 km) the night before to have the oil pan welded, telling us that as tourists, we probably wanted to get on our way (or, as he put it, out of this town). He also said we were the fourth rental car he had fixed that week (Dettifoss is more popular that we had thought). Our bill was less than expected although I still can't translate the Icelandic to see what we paid for. We were relieved and grateful. The repairman had even spent six weeks in Novi, Michigan taking service classes. Small world.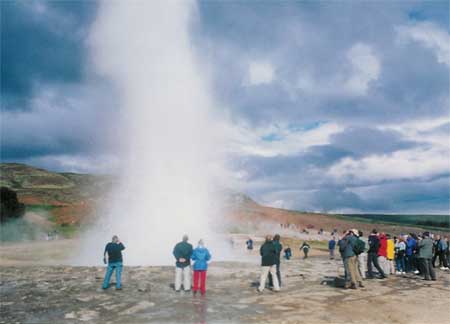 The next two days were spent seeing the original Geysir (after which all other geysers are named), glaciers, more waterfalls (easily accessible), and Reykjavik's small domestic zoo. We discovered Skyer, a low-fat yogurt based fruit cream that is (unfortunately) only available in Iceland. On our last night Tim ate whale in berry sauce and I had fish buffet (some raw, some just marinated, some cooked, all delicious).
Sadly we left Iceland only too soon. It is an expensive place to visit (even if you drive carefully) but the people are friendly, helpful, and many know English. The country is mostly unspoiled wilderness…starkly beautiful. When we return it will in a 4WD and an Icelandic vocabulary larger than tak (thanks) and bless (goodbye). And we will be more careful with our future rental cars. Unless the woman at the Avis rental return desk put out an APB on us.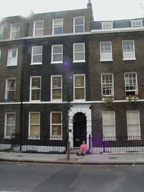 The next eight days were spent based in a small flat (apartment) in the Bloomsbury section of London. That was an area where many famous writers lived. In fact, Charles Dickens wrote "Oliver Twist" in a flat just a few doors down the street. Our flat was a very small quaint one-bedroom place with windows that opened out to brick walls and a shower I am convinced was installed by Dickens' plumber. The hot water ran to boiling and the cold water ran to warm, both bringing tiny flakes of lime deposits with it. (I suppose there is some pun here about limeys, but I shan't make it). However, it was convenient to most things we wanted to see and not far from the underground (tube) stations. Also, we could do laundry for free, cook our own meals, and it was much less expensive than other places we found.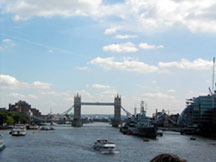 Samuel Johnson wrote "A man who is tired of London is tired of life; for there is in London all that life can afford". After eight days, we barely made a dent. We hit the main tourist spots like Tower of London, St. Paul's Cathedral, London Bridge, British Museum (where I saw many things I had studied last year in Art History), Kew Gardens (magnificent), and Hyde Park, just to name a few. We also saw the official line for Greenwich Mean Time, where tourists can step back and forth over it muttering "west, east, west, east".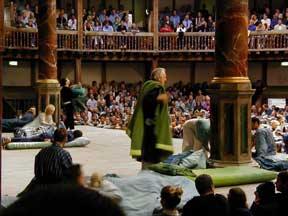 Two special treats were seeing Agatha Christie's play "The Mousetrap" (which has been playing continuously for 50 years) and seeing Shakespeare's "Midsummer Night's Dream" (which was done in the New Globe, a reconstruction of the Bard's theatre complete with a roofless area where the patrons could only stand up…and got wet when it rained). For you Harry Potter fans, we also looked for Platform 9 and ¾ at Kings Cross Station, but we couldn't find it (we must be Muggles).
The queen did not ask us to tea but she will have a second chance when we see her (they say) at the Highland Games next month. (I would prefer lunch with Tony Blair who once had long hair, was in a rock band, and nominated Mick Jagger for knighthood.) We did learn at the Tower that one of the early King Charles' had an affair with a distant relative of the present day Camilla Bowes(?) (mistress of present Prince Charles). Hmmm, history does repeat itself. And that's it for royal gossip.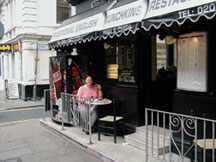 Food in England is reputed to be bland. However, we found the fish and chips good, the Indian food great, and we still need to sample more ale before we can give an accurate report. Chips are our french fries (served without catsup) and crisps are our potato chips. Brown sauce comes in little packets at the table and tastes like a combination of worcestershire sauce and soy sauce. If some meal comes with a salad, it could be anything from the lettuce-vegetable mixture we know to three slices of cucumber.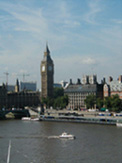 While we are on the subject of language, a nappie is a diaper and a serviette is our napkin. A jumper is our sweater, a lolly is a lollipop, and an ice lolly is a popsicle. The alphabet goes from A to Z (zed). You buy food by the gram, pay by the quid (pound), and measure distance by the mile. Food is cheaper when you take-away than when you eat in. When something (a play, food, a book, an action) is good, it is "brilliant".
That is probably more than you wanted to know. Hope everyone is well. You will next hear from us somewhere in Scotland, we hope.
So ta-ta and cheerio,
Di and Tim
P.S. To end on a sad note: On August 13th, our friend, confidant, and housekeeper Helen died after a short illness. Many of you who have stayed at our house knew her cheerful and giving nature and great cooking. She was a wonderful woman and we will miss her so.
---